News & Events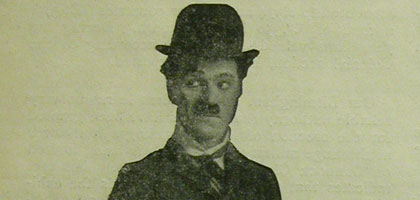 Bryony Dixon of the BFI National Archive presents a season of his early films showing how Chaplin became the world's first movie megastar.
From the Victorian workhouse and the south London slums to the heights of Hollywood and movie stardom the life of Charles Chaplin is Cinema's greatest 'rags to riches' story. It is less well known that the 20th century's greatest screen star was already a celebrity on this side of the Atlantic before he ever made a film.
Charlie Chaplin started performing at the age of 8. When he left England in 1912 he was a star of the stage when he returned in 1921 he was a star of the screen and the most famous man in the world. A six month season of his earliest films shows this transformation taking place and starts at the BFI Southbank in August with the Chaplin Keystone restorations.
To accompany the Early Chaplin season (Aug 2008 to Jan 2009) the Chaplinalia Mezzanine display will feature some fascinating Chaplin merchandising and objects including Chaplin's actual hat and cane.
Recently published books on Charlie Chaplin.
Past Events
Projecting the Archive: Charlie Chaplin Keystone Restorations

In February 2008 the BFI National Archive presented four newly restored Chaplin Keystone comedies which perfectly illustrate the adventurous experimentation of Chaplin the stage star in his transition to screen genius; The Star Boarder, The Face on the Bar-room Floor, The Fatal Mallet, The Knockout.
Esteemed conductor and composer Carl Davis chose to celebrate his 70th birthday with a special weekend starring the three geniuses of silent comedy, with live soundtracks provided by the CBSO.
The latest batch of restored Keystone films from the Chaplin Project were screened to enthusiastic audiences at Europe's premiere film restoration festival. 6 and 7 of July 2006.
Screenings of feature length films and shorts, children's workshops, competitions and street entertainment, Chaplin style. Sunday 23 April 2006.
The bfi, in association with the University of Southampton and the London College of Communication, held a major conference on the work and worldwide cultural influence of Charles Chaplin. 21-24 July 2005.
To coincide with the Charles Chaplin conference, the London Charlie Chaplin Festival organised a series of free London screenings and walking tours. 15-23 July 2005.
As part of the celebration of its 50th anniversary, the NFT held a gala screening of the newly restored print of Charlie Chaplin's Limelight. 25 October 2002