Chaplin in Leicester Square
St George's Day 2006, English Cultural Icons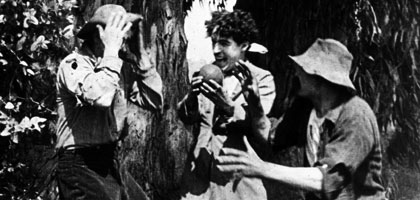 Mabel at the Wheel
Screenings of feature length films and shorts, children's workshops, competitions and street entertainment, Chaplin style on Sunday 23 April 12.00-6.00pm.
A special event to celebrate Charlie Chaplin and his contribution to cinema, filmmaking and popular culture. Born in London in 1889, Chaplin was an acclaimed actor, director, composer, writer and producer and his portrayal of 'the Tramp' continues to have universal appeal to this day.
Organised by the Mayor of London with assistance from Association Chaplin, Roy Export Limited, MK2 and the British Film Institute
ADMISSION FREE
Programme
12.30pm The Kid (1921)

Chaplin's first full-length film. Co-starring five-year-old Jackie Coogan.

2pm Three Shorts

Kid Auto Races, A Film Johnnie and Mabel at the Wheel (1914).

bfi

restored Keystone Film Company shorts with live piano accompaniment

3.00pm The Gold Rush (1925, 1942)

Chaplin's irrepressible Little Tramp seeks riches in the Yukon in this all time classic.1942 version with soundtrack and narration.

4.30pm Modern Times (1936)

Man v Machine! in one of the happiest and most light-hearted of the Chaplin pictures. Co-starring Paulette Goddard.
The restored Keystone comedies
"All I need to make a comedy is a park, a policeman and a pretty girl" (Charles Chaplin).
In association with the Cineteca di Bologna and Lobster Films the British Film Institute presented four newly restored Chaplin Keystone comedies. The importance of these films, all made between February and December 1914, is recently being recognised as the newly restored prints become available. Not only are they captivating records of the first year of Chaplin's film career, they also introduce us to the delightful Mabel Normand and the regular Keystone team. They are also concrete evidence of the growing influence of British comedic tradition in film as well as offering a glimpse of pre-war Hollywood.
Chaplin was already famous in Britain before he left to make films in Hollywood but by 1915 he was the most famous man in the world. The project to restore all of Chaplin's films places him firmly where he belongs as a great British icon.
New prints have been made at L'Immagine Ritrovata at the Cineteca di Bologna and here at the bfi's National Archive.
Bryony Dixon bfi Chaplin Project
Kid Auto Races (1914)
Dir. Henry Lehrman. Pc Keystone Company. Cast: Charlie Chaplin, Henry Lehrman, Frank D Williams, Billy Jacobs, Thelma Salter, Gordon Griffith, Charlotte Fitzpatrick.
In this first outing for the 'little tramp' character that would make Chaplin an international star Chaplin constantly gets in the way of the cameraman trying to film the kids car race and interfering in the race itself, he is undeterred by the protests of the onlookers.
Print restored at the bfi National Archive in association with Cineteca di Bologna and Lobster Films
- 18 minutes at 16fps
Mabel at the Wheel (1914)
Dir. Mabel Normand/Mack Sennett. Pc Keystone Company. Cast Charles Chaplin, Mabel Normand, Chester Conklin, Al St John.
Aside from the 'little tramp' Chaplin often played frock-coated villains. Here in pursuit of Mabel, he kidnaps her boyfriend Harry. Mabel takes Harry's place at the wheel and, survives all attempts by Charlie to sabotage her, driving the racing car to victory. Mabel Normand directs the race sequences with great skill although she and Chaplin fell out during filming and Mack Sennett had to step in (maybe explaining the film's alternative title A Hot Finish!)
Print restored at the bfi National Archive in association with Cineteca di Bologna and Lobster Films
- 28 minutes at 16fps
A Film Johnnie (1914)
Dir. George Nichols. PC Keystone Company scr. Charles Chaplin, Fatty Arbuckle, Ford Sterling, Chester Conklin, Minta Durfee, Virginia Kirtley.
Charlie follows the Keystone stars into the studio after seeing a poster for the Keystone girl. After cadging money at the studio gate (neatly re-pocketed by Sterling), he causes mayhem in several dramatic scenes, unable to distinguish real events from make-believe, and he finally spoils a thrilling rescue from a real fire.
Print restored at the bfi National Archive in association with Cineteca di Bologna and Lobster Films