City of Birmingham Symphony Orchestra Silent Movie Weekend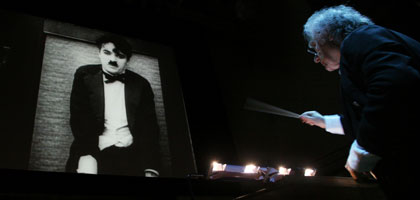 Carl Davis 'conducts' Chaplin
The esteemed conductor and composer Carl Davis chose to celebrate his 70th birthday in the form of a special weekend starring the three geniuses of silent comedy. Symphony Hall turned into Birmingham's largest cinema for the weekend for these spectacular screenings with live soundtracks provided by the CBSO.
Friday 13 October, 7.30pm
Silent Heroes: Buster Keaton
One Week 22mins | Our Hospitality 74mins
Carl Davis - composer/conductor
Set in 1830s Kentucky, Our Hospitality charts a bitter feud between warring clans, the McKays and the Canfields. When John McKay is killed, his widow sends their one-year old son Willie to her sister in New York to be raised.
Twenty years later, Willie is returning to Kentucky by train when he meets a young lady and falls in love. On accepting her invitation to meet her family he soon realises that she is a Canfield. Virginia's family wants to kill Willie, but their rigid social code prevents them from doing it while he's a guest in their home. Once he steps outside, however, it's a different story! The main feature is preceded by one of Keaton's best 'shorts', his first independent film following his artistic split from Fatty Arbuckle.
Saturday 14 October, 7pm
Silent Heroes: Charlie Chaplin
Carl Davis - composer/conductor
Modern Times - produced when everyone else was making 'talkies' - sees the Little Tramp turning against modern society and 'progress'. Set during the depression of the 1930s, the film picks up on the pressing issues of the day - hunger, unemployment and poverty - but remains one of the most poignant romantic comedy films ever made. It's preceded by a 'short', The Rink, which was reputedly one of Chaplin's favourite films, and whose wonderful slapstick moments have rarely been surpassed.
Sunday 15 October, 3pm
Silent Heroes: Harold Lloyd
An Eastern Westerner 20mins | Safety Last! 74mins
Carl Davis - composer/conductor
Harold Lloyd made his reputation as the 'King of Dare-Devil Comedy' in this 1923 film where he plays a young man hoping to rise to the top of the department store business - a dream which comes true all too soon when Harold is forced to climb the outside of the building! The shot of Lloyd dangling from a clock face is surely the most famous image in silent comedy.
The preceding short - An Eastern Westerner - is packed with gags, perfectly-paced and full of intelligent humour. This afternoon's screenings will be a unique movie matinée for all the family.