The Knockout (1914)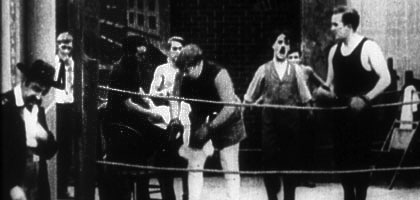 [image - detail from bfi-00n-gt0]
The Knockout is a Fatty Arbuckle vehicle with Chaplin only appearing in one scene as the referee of a boxing match. Despite his lack of screen time he still manages to make an impact and it is interesting that the boxing match would be a routine he returned to in other films (The Champion and City Lights). Fortunately, a nitrate dupe negative (on 1944 stock) is preserved at Museum of Modern Art. Although a late generation negative, at least 4 steps away from the camera negative, it is of exceptionally good length and contains eight original Keystone intertitles.
While we were working on The Knockout, one reel was discovered at the Nederlands Filmmuseum. The Dutch archivists had begun to accession a collection of nitrate prints (the Zaalberg Collection), in which was found one reel of the film. It was a tinted print without intertitles but obviously a local version as one of the handwritten notes which appears in the film was translated into Dutch. A second reel turned up in the same collection and the two reels were shipped just a month before the screening deadline at the Cinema Ritrovata festival in Bologna.
The French print is a compilation of fight scenes from several Chaplin shorts. It contains scenes from The Masquerader, The Property Man and The Champion. It contained just one frame of a Keystone intertitle, which wasn't in the MoMA negative. The title was examined and judged to be original so it has been reconstructed for the new print.
The Dutch and French prints provided three scenes in the new restoration. As a result, the new print of The Knockout is only 50 feet (15.23 metres) short of the original length - so although the picture quality will always be less sharp than we would like it is the closest of any of the new Keystone restorations prints to its original length.
Print Sources
Nitrate dupe negative made in 1944 ( Museum of Modern Art)
Nitrate tinted print (Nederlands Filmmuseum)
Nitrate compilation print (Les Archives du Film du CNC, Bois d'Arcy)
Original length 1960ft (two-reeler)/ Restored print 1908ft and 3 frames