Restoring Chaplin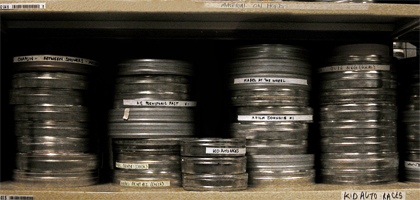 Chaplin is perhaps unique in film history in having taken such control over the ultimate fate of his work. Most filmmakers work for studios or production companies who take charge of the physical materials in which their work is contained. As soon as he left Keystone Chaplin made sure that his films were kept intact and was one of the first filmmakers to make protection materials. From 1918 Chaplin took charge of every process of the filmmaking process and kept tight control over negatives. This has ensured their longevity.
Compared to other filmmakers Chaplin's films are in very good order. After Chaplin's death the Association Chaplin took charge of the restoration of the major feature films and the First National titles. An on-going restoration programme is being carried out at l'Immagine Ritrovata in Bologna with premiere screenings at the Cinema Ritrovato festival. These events are staged to the highest standards with scores restored by conductor and composer Timothy Brock and performed with full orchestra at the Teatro Comunale in Bologna.
The story is not quite so good for Chaplin's earliest films. Good restoration work has been carried out on the Essanay and Mutual films (David Shepard's work can be seen on the
bfi

Chaplin Essanay and Mutual DVD volumes
). All of the prints survive in reasonable condition but for the very earliest films made at Keystone the survival rate is much lower. Chaplin had no influence over materials issued by Sennett's Keystone Company and his popularity had not then been established. Ironically it was this very growth in his popularity that devastated the original copies which were reissued to cash in on the new craze and frequently re-cut and re-edited, given new inter-titles and the negatives worn out. In this section we tell the story of the international effort to restore these films.