His Prehistoric Past (1914)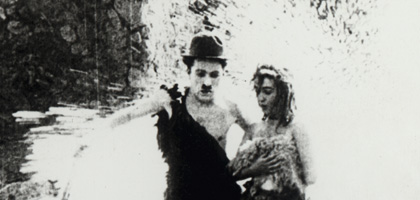 The National Archive restoration of His Prehistoric Past w as derived from two sources; a nitrate positive of a W H Productions reissue entitled Charlie's Goodbye Kiss held at the bfi National Archive and a print running at 1321ft from the Royal Archives in Brussels. Picture quality had suffered in both prints requiring different printing techniques to minimise scratching and the effects of over duplication. The Belgian print was consequently dry printed and wet gate printing was used on the print held at the National Archive to eliminate scratches.
The result is a clearer picture although the restored print still lacks considerable footage.
There were few intertitles in the film (only three) and these were taken from the wording of the W H Productions reissue of the early 1920s and made to conform to the Keystone template.
Prints sources
Nitrate positive of a W H Productions reissue entitled Charlie's Goodbye Kiss (National Archive) running at 1146ft
Nitrate positive (Brussels Royal Archives) running at 1321ft
Original length approx 2000ft/610m. Restored print length 1385ft/422m