35. His Prehistoric Past (1914)
Keystone 1914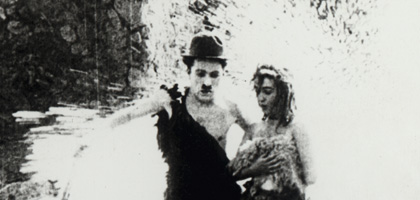 His Prehistoric Past was restored at the bfi National Film and Television Archive. Read the Restoration Report.
Synopsis
Chaplin's final film for Keystone. Falling asleep on a park bench, Charlie dreams he is Weakchin, dressed in skins and a brown derby hat, living in a stoneage past ruled by King Lowbrow. Weakchin gets into increasing amounts of trouble by pursuing the King's wives and is finally recalled to his senses by a policeman clubbing him over the head with his truncheon.
chaplin_credits
Director/Scenario:

Charles Chaplin

Cast:

Charles Chaplin (Weakchin)
Mack Swain (King Lowbrow)
Gene Marsh (Lowbrow's Favourite Wife)
Fritz Schade (?) (Cleo/Medicine Man)
Cecile Arnold (Cave Woman)
Vivian Edwards (Cave Woman)
Grover Ligon (or Liggon) (Cave Man)
Ted Edwards (Cave Man)
? Al St John (Cave Man)
? Frank D.Williams (Cave Man)

Shooting days:

October 14 -October 27

Negative sent from LA:

October 31

Received in New York:

November 6

Released:

December 7 1914

Length:

2000ft

Keystone working title:

A Prehistoric Villain

Other titles:

Hula Hula Dance, A Dream, The Caveman, King Charlie.