Independence Won: First National
1918-1923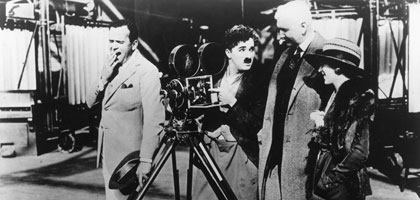 On 17 June 1917 Chaplin signed a much-publicised "million-dollar contract" with the newly established First National Exhibitors Circuit. The company would advance $125,000 for each of eight pictures, which Chaplin would produce independently. Given this new leap towards independence, he built his own studio on the corner of La Brea Avenue and Sunset Boulevard. To reassure his neighbours in this good residential area, the studio was designed to look like the cottages of an old English village.
The contract specified that the eight films would be delivered in one year, but a variety of circumstances - the First World War, Chaplin's marital problems and creative blocs, and the complex production of The Kid - resulted in a four-year period between the first and last releases. The first film under the contract, the fast and funny A Dog's Life (1918), was succeeded by Shoulder Arms (1918), an audacious essay in metamorphosing the horrors of the First World War into comedy. It was an enormous success and remains one of the great documents of that war. Sunnyside (1919) and A Day's Pleasure (1919) are attractive but minor works made as Chaplin was feeling his way towards his masterpiece, The Kid (1921), which drew rewardingly upon his own painful childhood memories, and made a worldwide star of his infant partner, Jackie Coogan. The final First National films are remarkable for their variety: in The Idle Class (1921) Chaplin plays a dual role - a member of the idle rich and a vagrant who happens to be his double. In Pay Day (1922) he plays a working man with a home and a shrewish wife. In The Pilgrim, he is an escaped prisoner who is mistaken for the new pastor of a rural community.
The period also saw some minor independent productions. Chaplin showed off his new studio in a comedy documentary, How to Make Movies, rejected by the distributors and only edited into showable form more than 70 years later. The Bond was the Chaplin studio's contribution to the war effort, a comedy to promote the sale of war bonds. The Professor was never completed, but an intriguing fragment survives. Nice and Friendly was a short dramatic comedy, designed to feature and flatter Chaplin's visiting friends, Lord and Lady Louis Mountbatten.