The Most Famous Man in the World
1915, 1921, 1931 and 1936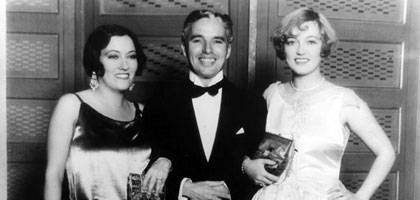 Within a year of his first appearance on screen, Chaplin's name and image were known across the world - a phenomenon which demonstrates the power of film in an age before radio and television. "Chaplinitis" found its expression in songs, toys, books and innumerable press articles. Chaplin himself, concentrating on learning his craft and making his pictures, only realised that he had become a national figure in February 1916 when he returned from California to New York for the first time since he had gone into films. His journey was like a royal progress, with civic receptions at every stop along the route. Chaplin was obliged to alight from the train before it reached Grand Central Station, to avoid the great crowds expecting him there.
He discovered the extent of his international popularity in 1921, when he impetuously decided to take time off from shooting Pay Day, to visit London and to enjoy adulation for his latest release there, The Kid. From his arrival in Britain he was mobbed by vast crowds, eager to see their idol in person. The same happened in Paris, though in Berlin (rather to his disappointment) he was less well known, as the War had delayed distribution of his films in Germany. He was courted by the society and intelligentsia of London and Paris, and invited to the best homes. In London he did however from time to time manage to slip out of a back door of the Ritz hotel, to visit incognito the scenes of his youth.
Much the same pattern was repeated when he returned to Europe for the premiere of City Lights in 1931, though this time the visit was extended to a 16-month world tour, with Chaplin greeted everywhere as a social celebrity. Chaplin's third inter-war return to Europe was in 1936 in company with Paulette Goddard, for the European premieres of Modern Times. This trip too was extended to a three-month world tour, though the world of 1936 was changed: it was to inspire Chaplin's next film The Great Dictator.