Conquering Sound: Darker themes
1940-1952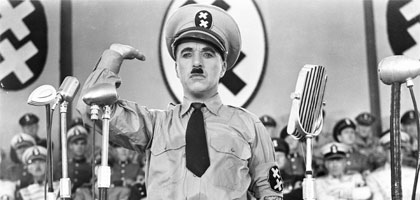 As long as he played the Tramp character, Chaplin held out against sound. The Tramp had a universal audience: if he now began to talk, that audience would shrink to the English-speaking countries. Moreover everyone in the world had his own idea of what the Tramp's voice would be like. However Chaplin's next subject saw the end of the Tramp, and demanded dialogue. He had been increasingly distressed by what he called "a lot of bad behaviour in the world" and felt real personal pain at the rise of nationalism and the Spanish Civil War.
Ever since the advent of Adolf Hitler, journalists and caricaturists had marvelled at the strange coincidence that Chaplin, the best-loved man in the world, and Hitler, eventually the most hated, were born within days of each other in 1889, had very similar physiques and chose to sport similar moustaches - though Hitler's was real, while Chaplin's was glued on. It was inevitable that Chaplin would finally play a caricature of Hitler in The Great Dictator (1940). Later he said that had he known the full reality of Nazism and the persecution of the Jews he could not have made a comedy from it; yet comedy proved an effective weapon. The film was loved in Britain, at the time suffering the full onslaught of the Blitz; though in America, where isolationism and German sympathies were still rife, the film was subject to a good deal of disapproval.
Following the War, Chaplin made his most black and cynical comedy, Monsieur Verdoux (1947), from an idea that originated with Orson Welles, who suggested that Chaplin play Henri Landru, the legendary French serial wife-killer. Chaplin's Monsieur Verdoux takes up the business of marrying and murdering rich ladies under the economic pressures of the Depression; and Chaplin draws parallels between private murder and the permitted public slaughter of war.
In the atmosphere of growing hostility of the Cold War era, Chaplin's last Hollywood film, Limelight (1952) revisited the London music halls of his youth, to tell the story of an aged clown who has lost the love of the audience.
Next - Cold War and Exile