Down but not out in Victorian London: childhood
1889-1898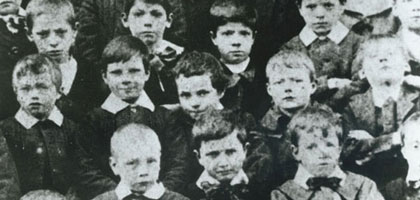 Charles Chaplin's own account was that he was born on 16 April 1889 in East Street Walworth, in the South London Borough of Southwark, though there is no birth certificate to provide absolute corroboration. His parents were professional singers, two of the hundreds of Victorian youngsters attracted by the glamour and rewards of the flourishing music halls. Hannah Harriet Pedlingham Hill (1865-1928), the daughter of a humble boot-maker, made her professional debut under the stage name of Lily Harley at 19; Charles Chaplin Senior (1863-1901), who came from a Suffolk family of butchers and publicans, began his more sustained professional career at 24.
When Charles Senior married Hannah in June 1885, she already had a 3-month-old child, allegedly fathered by a bookmaker named Hawkes. This son, Sydney (1885-1965) was to maintain a close relationship with his younger step-brother, often working professionally with him in later years. While Charles Senior was on an extended vaudeville tour in America, Hannah embarked on an affair with another music hall star, Leo Dryden; and the young Chaplins acquired a new half-brother, Wheeler Dryden (1892-1957). Wheeler was abducted by his father, and only reunited with his mother and step-brothers many years afterwards; though later in life he too worked in the Chaplin Studios as assistant and actor.
Not surprisingly, the Chaplin marriage broke up and the first days of domestic comfort came to an end. Charles Senior drifted into alcoholism, dying at 37. Hannah, virtually penniless, struggled to rear her two small sons until her own health began to fail. Acute mental instability (most likely the symptoms of tertiary syphilis) worsened and from 1898 she was increasingly - and eventually permanently - confined in mental institutions. Sydney and Charles experienced acute privation and often hunger, and were eventually taken into public care. From June 1896 to January 1898 young Charles was an inmate of the Central District Poor Law Schools at Hanwell, while Sydney was sent to the training ship Exmouth, designed to equip boys for seafaring jobs. Sidney went on to work as a steward on passenger ships plying between Britain and South Africa.