Following in Father's Footsteps: the young theatrical
1898-1908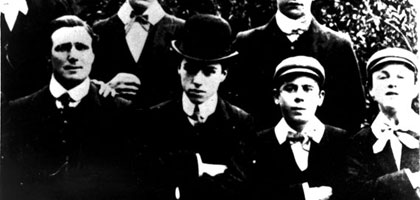 At Christmas 1898, four months short of his tenth birthday, young Charles Chaplin's life changed dramatically. He became a professional stage artist. Thanks to his father's professional connections, he joined a troupe of juvenile clog dancers, The Eight Lancashire Lads, created and managed by a former teacher, John William Jackson. After a few weeks training, he quickly picked up the dance routines; and with other boys was already thinking up new acts of his own. At Christmas 1900, the Lancashire Lads were engaged to play animals in the kitchen scene of the pantomime Cinderella, the second half of the bill at the spectacular new London Hippodrome. Here Chaplin, dressed as a cat, had his first opportunity to make people laugh. He afterwards spoke of the great impression made upon him by the young comedy star of the pantomime, the Spanish-born clown Marceline (1873-1927).
In the spring of 1901 he left the Lancashire Lads. On 9 May 1901, his father died at the age of 37, so that the occasional contributions he had made to the support of his son ceased. For the next two years, Charlie tried his hand at a variety of jobs - flower seller, barber's boy, doctor's boy, and pageboy. He worked briefly for W.H.Smith, in a glass factory, and in Straker's printing works. He hawked old clothes and assisted some street toymakers - even embarking on a private enterprise of making and selling toy boats.
In May 1903 his stepbrother Sydney returned from sea, determined to go on the stage after enjoying some success in ship's entertainments. With Sydney's encouragement the 14-year-old Charlie boldly offered himself to a West End agent, and surprisingly was instantly given a job as Billy the Page in a touring company of Sherlock Holmes. While waiting for the tour he played a newsboy in Jim, A Romance of Cockayne: and won some good notices, even though the play flopped. For more than two years he toured in the role with various companies; and his career as a legitimate actor was crowned when he was called to London to play Billy in a revival at the Princess's Theatre, starring the co-author and creator of the role, the famous American star William C. Gillette.
After one more provincial tour of Sherlock Holmes, Charlie joined Sydney in the music hall comedy sketch Repairs; then in May 1906 he joined another sketch, Casey's Court Circus, with which he stayed for more than a year. By the time he was 17 Chaplin was already being given top comedy roles.
Next - Already a Star With Karno