15. The Fatal Mallet (1914)
Keystone 1914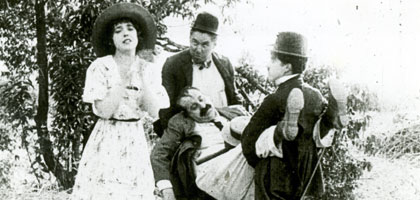 Synopsis
By a river, Charlie and two others (Mack Sennett and Mack Swain) are rivals for the favours of the haughty Mabel. A rough-house ensues involving people being hit repeatedly over the head with bricks and mallets with varying degrees of effectiveness. Mabel appears bored by these proceedings until she receives a kick from Charlie and although he later rescues her from a young pest she walks off with Mack Sennett in the end.
chaplin_credits
Director/Scenario:

Mack Sennett

Cast:

Charles Chaplin (Suitor)
Mabel Normand (Mabel)
Mack Swain (Mabel's suitor)
Mack Sennett (Rival suitor)
Gordon Griffith (Boy)

Shooting days:

May 1 0 - May 12

Negative sent from LA:

May 16

Received in New York:

May 22

Released:

June 1 1914

Length:

.1120ft.

Keystone working title:

The Knockout

Other titles:

The Pile Driver, Hit Him Again, The Rival Suitors.