9. The Star Boarder (1914)
Keystone 1914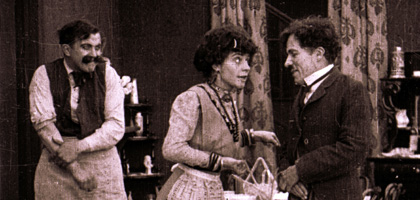 Synopsis
Favoured lodger Charlie is getting on rather too well with his landlady, while being secretly photographed by her son in a series of innocent but apparently incriminating positions. Later the boy offends everybody by showing the photos on his magic lantern, together with one of the landlady's husband flirting with another woman. The boy is roundly spanked by his mother while Charlie fights off the knife-wielding husband.
chaplin_credits
Director:

George Nichols

Scenario:

Craig Hutchinson

Cast:

Charles Chaplin (Boarder)
Edgar Kennedy (Landlord)
Minta Durfee (Landlady)
Gordon Griffith (Son)
Alice Davenport (Boarder)
Harry McCoy (Boarder assisting magic lantern show)
Billy Gilbert (Guest at show)
Lee Morris (Boarder)
? Phyllis Allen (Boarder)
? Al St John (Boarder)
? Jess Dandy
? Wallace MacDonald

Shooting days:

March 2 - March 9

Negative sent from LA:

March 19

Received in New York:

March 24

Released:

April 4 1914

Length:

1020ft

Keystone working title:

New Lovers

Other titles:

The Hash House Hero, The Landlady's Pet, The Fatal Lantern, In Love With His Landlady, .