21. The Property Man (1914)
Keystone 1914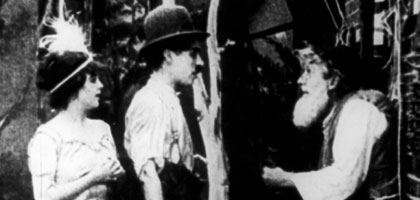 The Property Man was restored at the bfi National Film and Television Archive. Read the Restoration Report.
Synopsis
Charlie is a bone-idle prop man in a vaudeville theatre who makes his aged colleague do all the heavy lifting. He causes chaos with the various acts during the performance, including soaking stage and audience alike with a hose - the oldest film gag in the world, followed by another as he easily picks up the weight-lifter's dumbbells.
chaplin_credits
Director/Scenario:

Charles Chaplin

Cast:

Charles Chaplin (The Property Man)
Fritz Schade (Singer)
Phyllis Allen (Ham Lena Fat)
Charles Bennett (Ham Lena's husband)
Josef Swickard (Old Stagehand)
Jess Dandy (Garlico)
Mack Sennett (Man in Audience/Spectator)
Frank Opperman (Man in Audience)
George 'Slim' Summerville (Man in Audience)
Joe Bordeaux (Old Actor)
Harry McCoy (Drunk in Front Row)
Cecile Arnold (?) (Goo Goo Sister)
Vivian Edwards (Goo Goo Sister)
Alice Davenport (Actress)
Chester Conklin (Spectator)
Norma Nichols (?) (Vaudeville Artist)
Gene Marsh (?)(Garlico's Assistant)
Dixie Chene (?) (Woman in Audience)
Lee Morris (?) (Man in Audience)

Shooting days:

June 25 - July11

Negative sent from LA:

July 18

Received in New York:

July 25

Released:

August 1 1914

Length:

1858ft

Other titles:

Getting His Goat, Props, Charlie on the Boards, Props, The Roustabout, Vamping Venus.