78. Monsieur Verdoux (1947)
United Artists 1923-52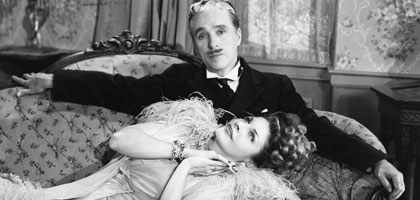 Synopsis
Speaking posthumously Mr. Verdoux, over a picture of his own gravestone, tells his story. Years as a law abiding bank clerk were interrupted by the depression and redundancy and he turned instead to the business of 'liquidating members of the opposite sex' for money to support his invalid wife and child. The story begins with the bickerings of a rich family of wine merchants one of whom, Thelma, has married a stranger called Varnay and she has not been seen since. They consider calling the police and peruse a photograph of Verdoux/Varnay as the scene changes to the man himself cutting roses in a country garden. An incinerator burns in the background. A Postman arrives with a letter from Mme Varnay's bank and Verdoux pretends to summon her and then forges her signature. The letter is to close her account and Verdoux counts the money with the practiced speed of the bank clerk. He calls a firm of brokers and invests the money in shares. The Wine Merchant family go to the police where they talk to Inspector Morrow. He is on the trail of a murderer of 12 wealthy women who died in similar circumstances. At Verdoux's country villa a Madame Grosnay arrives from the estate agents to view the house. Verdoux sets about finding out that she is a widow of means and tries to charm her. She is resistant to his approaches but he retains her address for future use. Verdoux meets a friend at a café, and asked about his improved financial circumstances admits to having made 'a killing'. He receives a phone call from his brokers saying there has been a fall in the market and that they must have a large sum to cover costs immediately. He consults his address book and leaves to visit another bigamous wife, Lydia. She is angry at his having stayed away for three months. His explanation is that he has been traveling in the Far East trying to have them from financial ruin and that she must withdraw all her funds from her safe deposit box. Lydia becomes suspicious, but too late. In the morning Verdoux arranges to send the money to the brokers and then leaves for his real home and family. His wife is worried about him, he seems 'so desperate' and he hopes that he can retire soon in relative comfort. They dine with their friend the chemist and seem in every way a normal family.
Verdoux next visits Annabella, another 'wife', in his guise as a naval captain. Brassy and financially gullible, Annabella is forever being taken in but seems unnaturally suspicious as Verdoux attempts to take charge of her financial affairs. Before she can lose all her money Verdoux must get rid of her so he can inherit. His attempts to drown and poison her all fail. In the meantime he continues to pursue Madame Grosnay, sending flowers twice a week. At home he talks to his chemist friend about an undetectable poison and hypothesizes that a murderer could experiment on a vagrant, set them up in a hotel, poison them and wait to see whether the police detect the poison. In Paris Verdoux puts his experiment into action and picks a young prostitute as his victim, but after he talks to her about life, love and her misfortunes he changes his mind and throws the poison away. He gives her enough money to keep her going for a while and leaves. He visits the florist to see if Madame Grosnay has enquired after him, unaware that detective Morrow has tracked him down. He arrests Verdoux on charges of bigamy thinking he can build a murder case once he has him in custody, but Morrow falls foul of Verdoux's undetectable poison as they travel on the train. Verdoux, escapes with the world thinking Morrow has died of a heart attack. Verdoux having had confirmation that the poison works, tries to feed it to Annabella but is constantly frustrated by mishaps. He tries to drown her but fails there as well. Cutting his losses he makes a further effort to engage the interest of Madame Grosnay and finally succeeds when she consents to marry, but Annabella turns up at the wedding as a guest and he is forced to flee. The family of the missing Thelma meet the police and Madame Grosnay and decide that Varney/Verdoux is their man, but have no evidence. The papers are full of the news of the Stock market crash and Verdoux desperately tries to sell his stock but he is too late.
Some years later Verdoux, old and worn, meets the young prostitute again. She is doing well in the Europe of the dictators, the mistress of an arms dealer. She notices he seems mellower and he explains that following the loss of his wife and child after the crash he lost his taste for his former profession and now thinks life is worth living just to see how it turns out. As they leave Verdoux is recognized and he finds a way to lock his pursuers in a side room while he says goodbye to the girl. He awaits arrest but the police bungle it until he aids one of his accusers to her feet and is finally recognised. Verdoux uses his trial to compare his murderous activities unfavorably with those of the warmongers claiming that 'numbers sanctify' murder and his little business could never compete with their larger enterprise. In the condemned cell a very sanguine Verdoux is offered some rum and accepts only on the grounds that he hasn't tried it before and is led away to the guillotine.
chaplin_credits
Production:

Chaplin-United Artists

Producer:

Charles Chaplin

Director:

Charles Chaplin

Scenario:

Charles Chaplin

Photography:

Curt Courant, Roland Totheroh

Cameraman:

Wallace Chewning

Associate Directors:

Robert Florey, Wheeler Dryden

Assistant Director:

Rex Bailey

Art Director:

John Beckman

Editor:

Willard Nico

Music:

Charles Chaplin

Musical Director:

Rudolph Schrager

Sound:

James T. Corrigan

Costumes:

Drew Tetrick

Make-up:

William Knight

Hair Stylist:

Hedvig M. Jornd

Narrator:

Charles Chaplin

Cast:

Charles Chaplin (Monsieur Henri Verdoux)
Martha Raye (Annabella Bonheur)
Isobel Elsom (Marie Grosnay)
Marilyn Nash (The Girl)
Robert Lewis (Monsieur Bottello)
Mady Correl (Madame Verdoux)
Allison Roddan (Peter Verdoux)
Audrey Betz (Madame Bottello)
Ada-May (Annette)
Marjorie Bennett (Maid)
Helen High (Yvonne)
argaret Hoffman (Lydia Floray)
Irving Bacon (Pierre Couvais)
Edwin Mills (jean Couvais)
Virginia Brissac (Carlotta Couvais)
Almira Sessions (Lena Couvais)
Eula Morgan (Phoebe Couvais)
Bernard J. Nedell (Prefect)
Charles Evans (Detective Morrow)
Arthur Hohl (Estate Agent)
John Harmon (Joe Darwin)
Vera Marshe (Mrs Darwin)
William Frawley (Jean La Salle)
Fritz Lieber (Priest)
Fred Karno Jr. (Mr Karma)
Barry Norton (Guest)
Pierre Watkin (Attorney)
Cyril Delevanti (Postman)
Charles Wagenheim (Friend)
Addison Richards (M. Millet)
James Craven (Friend)
Franklin Farnum (Victim)
Herb Vigran (Reporter)
Boyd Irwin (Warder)
Paul Newland (Guest)
Joseph Crehan (Broker)
Wheaton Chambers (Druggist)
Frank Reicher (Doctor)
Wheeler Dryden (Salesman)
Thérèse Lyon (Jeannette)
Lester Mathews (Prosecuting Attorney)
Richard Abbot (Defence Attorney)
Garnett Monks (Foreman of jury)
Joseph Grartby (Court Clerk)
Julius Cramer (Executioner)
Art Miller (Guard)
Albert Petit (Spectator)
Barbara Slater (Flower Girl)
Ella Ethridge (Woman in Street)
Christine Ell (Maid)
Lois Conklin (Flower Girl)
Alicia Adams (Flower Girl)
Elisabeth Dudgeon (Old Hag)
John Harmon (Joe, friend of Annabella)
Vera Marshe (Vicki, friend of Annabella)
Daniel de Jonghe (Waiter)
George Dees (Waiter)
Carlo Schipa (Waiter)
Albert D'Arno (Waiter)
Bert le Baron (Doorman at Café Royal)
Jean Bittner (Diner in Café Royal)
Manuel Petroff (Diner in Café Royal)
Tom Wilson
Phillips Smalley

Production started:

April 1946

Opening shot:

3 June 1946

Final shot:

5 September 1946

Production finished:

4 March 1947

Premiere:

11 April 1947, Broadway Theatre, New York

Length:

11,132 ft