24. The Masquerader (1914)
Keystone 1914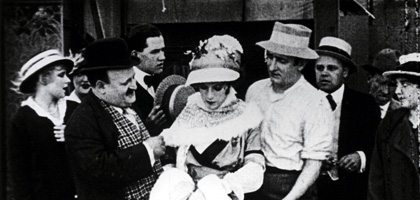 Synopsis
Charlie is an actor in a film studio, but he is so busy annoying Fatty or flirting with the actresses that he misses his cue and ruins the scene. The director fires him, but he returns disguised as a woman and is hired because of his attractions. The ruse is discovered and he is chased and falls down a well, where the director and the company are happy to leave him.
chaplin_credits
Director/Scenario:

Charles Chaplin

Cast:

Charles Chaplin (Film Actor)
Roscoe Arbuckle (Film Actor)
Chester Conklin (Film Actor)
Charles Murray (Film Director)
Fritz Schade (Villain)
Minta Durfee (Leading Lady)
Cecile Arnold (Actress)
Vivian Edwards (Actress)
Harry McCoy (Actor)
Charles Parrott [Charley Chase]
(Actor)
Billy Gilbert (Cameraman)
Glen Cavender (?) (Another Director)
Billie Bennett (Actress)
Grover Ligon (Actor)
Gene Marsh (Actress)
Frank Opperman (Actor)

Shooting days:

July25 - August 1

Negative sent from LA:

August 12

Received in New York:

August 18

Released:

August 27 1914

Length:

1030ft.

Keystone working title:

Queen of the Movies

Other titles:

Putting One Over, The Female Impersonator, The Picnic, Charlie at the Studio, Charlie the Actor, The Perfumed Lady, The Female.