18. Mabel's Busy Day (1914)
Keystone 1914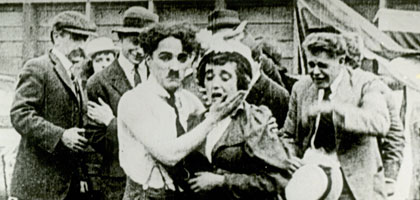 Synopsis
Down on her luck, Mabel tries desperately to make a dime or two by illegally peddling hot dogs at the racetrack. She is harassed by the men in the crowd until sympathetic chancer Charlie comes to her aid. He is seen attempting to steal from a woman's handbag before taking over the hot dog sales to evade the policeman Mabel has called. In the end he manages to lose the entire tray and after battling with the cop escorts the tearful Mabel from the scene.
chaplin_credits
Director/Scenario:

?Mabel Normand

Cast:

Charles Chaplin ( Pest)
Mabel Normand (Mabel)
Chester Conklin (Cop)
George "Slim" Summerville (Cop)
Billie Bennett (Spectator)
Frank Opperman (Spectator)
Harry McCoy (Hot Dog Thief)
Wallace MacDonald
Edgar Kennedy (Tough hot dog eater)
Al St John
Charles Parrott (Charley Chase)
Mack Sennett (Spectator)
Glen Cavender (Customer)
Henry Lehrman(?)

Shooting days:

May 17 - May 26

Negative sent from LA:

May 30

Received in New York:

June 5

Released:

June 13 1914

Length:

998ft

Keystone working title:

Weenie Story

Other titles:

Hot Dogs, Love and Lunch, Charlie and the Sausages, Hot Dog Charlie.