17. The Knockout (1914)
Keystone 1914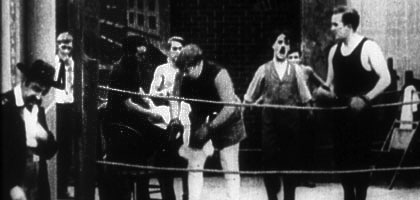 Synopsis
A pair of hoboes attempt to extort money from a promoter by impersonating a couple of prize boxers. They set up one of the real boxers to throw the match and are then chased away. Chaplin makes a brief appearance as the officious referee in a boxing match between the real pugilists Fatty Arbuckle and Edgar Kennedy. Charlie gets knocked about as a set-up is suspected and a rooftop chase follows, much complicated by the arrival of the Keystone cops.
chaplin_credits
Director:

Charles Avery

Cast:

Roscoe Arbuckle (Fatty)
Minta Durfee (The Girl)
Edgar Kennedy (Cyclone Flynn)
Charles Chaplin (Referee)
Al St John (Gang leader)
Hank Mann (Roughneck with eyepatch)
Mack Swain (Gambler)
Frank Opperman (Bearded fight promoter)
Mack Sennett (Spectator)
Grover Ligon (or Liggon) (Roughneck in derby)
George "Slim" Summerville (Spectator)
Billy Gilbert (Singer)
? Charles Parrott (Charley Chase)(Spectator)
? Joe Bordeaux (Cop)
? Eddie Cline (Cop)
? Alice Howell
? Luke the Dog

Shooting days:

May 11 - May 18

Negative sent from LA:

May 29

Received in New York:

June 3

Released:

June 11 1914

Length:

1960ft

Keystone working title:

Fighting Demon

Other titles:

The Pugilist, Counted Out.