61. The Immigrant (1917)
Mutual 1916-17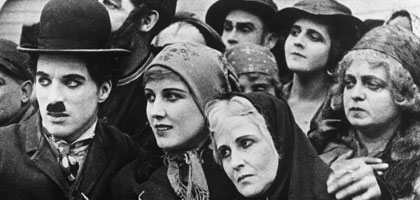 Synopsis
Edna and her ailing mother are on their way to New York on an immigrant steamship. Charlie leans over the rail apparently seasick but is in fact just landing a large fish. Other passengers are not so lucky and Charlie is careful to avoid them. At dinner he shares a plate of soup with a Russian as it slides up and down between them. Edna enters and Charlie offers her his seat. He has to hurry off as nausea finally catches up with him. A title 'more rolling' sees Charlie winning at dice to the fury of a sizeable gambler. He stomps off and seeing Edna's mother asleep, robs her of a bundle of notes. He stakes all on a hand of cards and Charlie wins again. Seated next to Edna later, Charlie hears about her hardships and puts his winnings in her pocket, retrieving it momentarily to extract a small bill. An officer sees him reaching into her pocket but the confusion is sorted out as they arrive beneath the Statue of Liberty. Roped off like animals on the dock Charlie says goodbye to Edna and her mother.
Some time later, broke outside a restaurant, Charlie finds a dollar on the pavement. Unaware that it has dropped straight through his trousers to the floor again, he enters and orders from a gigantic waiter who repeatedly tries to make him remove his hat. His etiquette is indeed so poor that he drives away a neighbouring diner. At that moment he sees Edna sitting close by staring at a black-bordered handkerchief. He greets her as an old friend and orders some food for her. While they eat they watch a drunk being ejected forcibly by the huge waiter for being ten cents short, then Charlie checks and realises that the coin has gone. He orders more coffee for Edna to have time to think. A tramp enters brandishing the lucky coin and Charlie tries to grab it but is thwarted twice by the arrival of the waiter. The tramp pays the waiter who promptly loses it through a hole in his trousers and Charlie slaps his foot down it. It takes some time to retrieve from under the waiter's foot, but eventually he pays the waiter only to find it's a dud. He orders more coffee. An artist who is admiring the picture made by Charlie and Edna joins them and offers to pay but Charlie will not hear of it. He overdoes the heroics and the offer is withdrawn, and he is eventually obliged to pays the bill with the artist's generous tip.
chaplin_credits
Cast:

Charles Chaplin (Immigrant)
Edna Purviance (Immigrant)
Kitty Bradbury (Her Mother)
Albert Austin (Slavic Immigrant and Diner)
Henry Bergman (Slavic Woman Immigrant and Artist)
Loyal Underwood (Small Immigrant)
Eric Campbell (Head Waiter)
Stanley Sanford (Gambler on Ship)
James T. Kelly (Shabby Man in Restaurant)
John Rand (Tipsy Diner who cannot pay)
Frank J. Colernan (Ship's Officer / Gambler/ Restaurant Owner)
Tom Harrington (Marriage Registrar)
Stanley Sanford (Gambler on Ship)
William Gillespie (Café Violinist)

Released:

17 June 1917

Length:

1809 ft

Other titles:

Broke, A Modern Columbus, Hello, U.S.A., The New World.