69. The Idle Class (1921)
First National 1918-23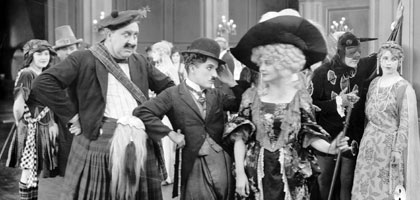 Synopsis
Charlie the tramp is the double of a rich man who fails to pick up his wife, Edna at the railway station. She makes her own way home and poor Charlie, with his one small bag and golf clubs, hitches a ride on the back of the car. The rich husband (also played by Chaplin) meanwhile leaves late for the station without remembering to don his trousers, and is obliged to conceal himself behind various things to get home. He and his wife are very frosty and she says she will move into other rooms until he gives up drinking. He appears to be sobbing uncontrollably at his wife's portrait until it becomes clear he shaking a cocktail.
Charlie meanwhile is on the golf course trying to find an abandoned ball to play with. He spots Edna on horseback and falls in love. He fantasises about rescuing her from a runaway horse and marrying her. She leaves and he continues playing with his purloined ball - accidentally smashing another, much larger, golfer in the face, breaking his bottle of whisky and standing on his hat. Charlie rushes off and continues to annoy everyone on the golf course.
At the house a masquerade ball is starting and Edna sends a note to her husband, who has dressed in medieval armour, saying she will forgive him if he attends the party. Outside Charlie falls prey to a pickpocket and evades a policeman by walking through a limousine from which party guests are descending. Charlie joins the line next to one of the golfers he has annoyed. He picks up the man's dropped invitation and gains admission. He is sent for by Edna, who thinking he is her husband in tramp costume, introduces him to her father, who turns out to be the large man from the golf course. All goes well however until Charlie denies to her father that he is married to Edna and a fight erupts. Edna has fainted but asked for Charlie to follow her to a room where the husband is still struggling in his armour. The husband attacks him.
Eventually it becomes evident that a mistake has been but Charlie must first get the husband out of the armour with a can opener. The cause of the confusion becomes apparent and Charlie is asked to leave. On his way out the father offers to shake his hand but as he looks down to where Charlie is pointing to something on the floor he receives a kick and Charlie runs off into the distance.
chaplin_credits
Cast:

Charles Chaplin (Tramp and Husband)
Edna Purviance (Neglected Wife)
Mack Swain (Her Father)
Henry Bergman (Sleeping Hobo)
Allan Garcia (His Neighbour on a Park Bench and Guest)
John Rand (Golfer and Guest)
Rex Storey (Pickpocket and Guest)
Lillian MacMurray (Maid)
Lillita MacMurray (Maid)
Loyal Underwood (Guest)
Mrs Parker
Lolita Parker
Howard Olsen
Edward Knoblock
Granville Redmond
Carlyle Robinson
Joe Van Meter
Bruce Belamator, William Thompson, William Hackett, Jack Mortimer, B. W. McComber, Charles Aber, Jim Collins, Jack Sydney, Duffy Kirk, Jack Lott, George Bastian, Howard Johnston, Joe Campbell, Richard Brewster, Mrs Ross Lang, Miss Helene Calverley, Margaret Rishell, Miss M. Parsons, Gertrude Pedlar, Ruth Darling, Joe Flores, Miss Grace, Carl Brown, Anita Walton, Miss Egbert, Lura Anson, Catherine Vidor, Gladys Webb, Mary Land, California Truman, Marie Crist, Lottie Cruz, Helen McMullin, Hugh Saxon, Harold Kent, Harold McNulty, Helen McKee, Gladys Baxter, Dolly Rich, Robert Badger, Jack Woods, C. S. Steele, Fred Wilson, E. C. Holkin, Miss Wicks, Mary Ann Bennett, Harriett Bennett, Vera Wilder, Ethel Childers, Anita Simons, Melissa Ledgerwood, Nel Foltz, Ruth Foster, Evelyn Burns, ean Temle, Bertha Feducha, Pearl Palmer, Arnold Triller, Jack Underhill, John Sweeny, Clyde McCoy, George Milo, William Moore, George Mistler, J. A. Beaver, Charles Meakins, W. R. Denning, L. Chandler, L. Swisher, R. Pennell, Jules Hanft, Bob Palmer, Waiter Bacon, Art Hanson, Harry Tenbrook, Bill Carey, Joe Anderson, Paul Mertz (Extras)

Production started:

29 January 1921

Production finished:

25 June 1921

Released:

25 September 1921

Length:

1916 ft
Musical score by Chaplin, arranged by Eric James, recorded in October 1971 at Anvil Studios, Denham, England.