34. Getting Acquainted (1914)
Keystone 1914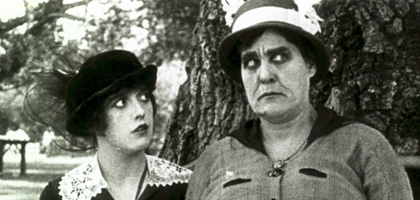 Synopsis
Several couples and the obligatory policemen get mixed up in the park. The couples are not interested in their respective spouses, and so we find the men behaving badly, women commiserating with each other and the policeman trying to impose some order on these inexplicable 'acquaintances' whilst simultaneously dealing with a passing Turk.
chaplin_credits
Director/Scenario:

Charles Chaplin

Cast:

Charles Chaplin (Spouse)
Phyllis Allen (His Wife)
Mack Swain (Ambrose)
Mabel Normand (Ambrose's Wife)
Harry McCoy (Another Flirt)
Edgar Kennedy (Policeman)
Glen Cavender (A Passing Turk)
Cecile Arnold (Flirty Girl)
? Gene Marsh (Girl in Park)
Joe Bordeaux (Motorist)

Shooting days:

November 13-November 16

Negative sent from LA:

November 22

Received in New York:

November 28

Released:

December 5 1914

Length:

1025ft

Keystone working title:

The Flirts

Other titles:

A Fair Exchange, Hello Everybody, Exchange is no Robbery.