81. A Countess from Hong Kong (1967)
The British Productions 1957-67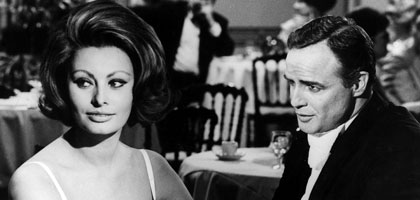 Synopsis
At a dance hall in Hong Kong a sign advertises genuine Countesses for 50 cents a dance. A millionaire politician, Ogden, the son of an oil baron, docks at the harbour with his secretary, Crawford and friend, Harvey and his valet, Hudson. They go out on the town to celebrate Ogden's impending divorce and meet a friend of Ogden's father, Mr. Clark. Clark introduces them to three girls, apparently all real aristocrats in exile from Russia. Ogden talks to Natascha who fled Russia at the age of 14. Alone in the world, she became the mistress of a gangster and found her way to Hong Kong.
The next morning, back aboard the liner and hungover, Ogden discovers Natascha hiding in his closet, determined to escape to the USA. He has just been appointed ambassador to Saudi Arabia. Ogden is persuaded reluctantly to let her stay in his suite. He attempts to buy some clothes for her, as she came aboard with only her evening dress, but they are far too big and old-fashioned. She refuses to go ashore or be sent back to Hong Kong and will accept no money. She and Ogden are obliged to dodge the press who are on board in some numbers. Ogden warms to Natascha who nurses him through seasickness. They emerge to attend a dance where Natascha is mistaken for a lady passenger who it is known has been confined to her cabin for the entire voyage. She is pursued by a man who recognises her from the dance hall, and wants to take advantage. Ogden becomes jealous and they argue. Natascha decides to give herself up and Ogden kisses her. They return to his suite to reconsider the situation. The persistent man finds the cabin of the lady passenger but discovers that it is inhabited by an elderly lady.
Ogden and Natascha try to come up with a plan to get her into the USA. She suggests jumping ship at Hawaii from where it will be easier to emigrate just as a telegram arrives from Ogden's wife, Martha, to say she will join the ship at Honolulu to meet her husband and discuss reconciliation. Natascha agrees to a desperate scheme to marry the valet, Hudson that will not only preserve propriety but also allow her to enter America. An uncomfortable night is spent by all as Natascha does not entirely trust her new 'husband' and Ogden has to swap beds with Hudson. To make matters worse the next day the captain tells them that although married, the immigration authorities still need identification from Natascha. Hudson is led away for questioning armed only with a weak excuse about her papers blowing away whilst on deck. Natascha decides to go back to her plan to jump ship at Hawaii and arranges to meet Harvey on the beach at Waikiki. She dives overboard and begins to swim.
Martha arrives and is surprised at Hudson's sudden marriage. When the Captain arrives to question Natascha about her papers, Martha becomes suspicious. Harvey mimes to Ogden that Natascha has swum ashore as a search of the ship is instigated. Harvey goes ashore while Ogden and Martha discuss their future. They have been asked to remain together for the sake of appearances but Martha does not want to move to Saudi Arabia and is only interested in money. Harvey meets Natascha at Waikiki beach and rents her a suite at a hotel as his wife. He buys her some clothes, underestimating her size as Ogden had overestimated it before. They meet Martha, Ogden and Hudson in the hotel and Harvey attempts to pass Natascha off as his wife. Harvey takes Martha off to dance and Ogden tells Natascha that he will continue to help her but that he has to go to Saudi Arabia and has to take Martha with him. He would rather give it up but she persuades him for the sake of his career to go through with it. Martha is watching them and has evidently discovered the secret of Natascha's shady past. The next morning, as Ogden and Martha prepare to sail, she confronts him with it and the fact that Natascha has been passed from man to man as 'wife'. This is too much for Ogden who asks her how she would have handled such a situation. He leaves Martha, his political career and the ship and goes to meet Natascha.
chaplin_credits
Production:

Universal

Producer:

Jerome Epstein

Director:

Charles Chaplin

Scenario:

Charles Chaplin

Photography:

Arthur Ibbetson

Assistant Director:

Jack Causey

Production Designer:

Don Ashton

Art Director:

Robert Cartwright

Set Decorator:

Vernon Dixon

Wardrobe mistress:

Hilda Geerdts

Editor:

Gordon Hales

Music:

Charles Chaplin

Musical Director:

Lambert Williamson

Musical Associate:

Eric James

Sound:

Michael Hopkins

Sound Recording:

Bill Daniels, Ken Barker

Production Supervisor:

Denis Johnson

Titles:

Gordon Shadrick

Colour:

Technicolor, CinemaScope.

Cast:

Marlon Brando ( Ogden Mears)
Sophia Loren (Countess Natascha Alexandroff)
Sydney Chaplin (Harvey Crothers)
Tippi Hedren (Martha Mears)
Patrick Cargill ( Hudson)
Margaret Rutherford (Miss Gaulswallow)
Michael Medwin (John Felix)
Oliver Johnston ( Clark)
John Paul (Captain)
Angela Scoular (Society girl)
Peter Bartlett (Steward)
Bill Nagy (Crawford)
Dilys Laye (Saleswoman)
Angela Pringle (Baroness)
Jenny Bridge (Countess)
Maureen Russell (Countess)
Jackie Dee (Girl in dance hall)
Ray Marlowe (American in dance hall)
Arthur Gross (Immigration officer)
Balbina (Maid)
Geraldine Chaplin (Girl in ballroom)
Janine Hill (Girl in ballroom)
Christine Rogers (Girl in ballroom)
Pat Hagan (Girl in ballroom)
Gerry Howes (Man in ballroom)
Anthony Chin (Hawaiian)
Burnell Tucker (Receptionist)
Leonard Trolley (Purser)
Lee Lowe (Electrician)
Francis Dux (Head waiter)
Cecil Cheng (Taxi driver)
Ronald Rubin (Sailor)
Michael Spice (Sailor)
Ray Marlowe (Sailor)
Josephine Chaplin (Young girl)
Victoria Chaplin (Young girl)
Harold Korn (Officer)
Holly Grey (Steward)
Kevin Manser (Photographer)
Marianne Stone (Reporter)
Lew Luton (Reporter)
Bill Edwards (Reporter)
Drew Russell (Reporter)
John Sterland (Reporter)
Paul Carson (Reporter)
Paul Tamarin (Reporter)
Carol Cleveland (Nurse)
Charles Chaplin (An old steward)

Released:

2 January 1967

Length:

11,033 fit