4. Between Showers (1914)
Keystone 1914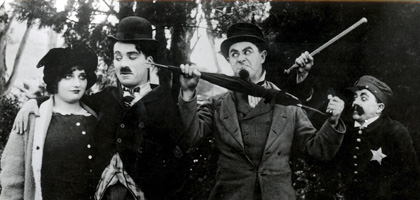 Between Showers was restored at the bfi National Film and Television Archive. Read the Restoration Report.
Synopsis
Villainous Ford Sterling makes off with an umbrella from cop Chester Conklin, who is preoccupied with a housemaid. He encounters a young lady in distress trying to cross over a huge puddle. He gives her the umbrella while he goes off to get a plank so she can cross. Meanwhile Charlie arrives and with the same thought wanders off to find a piece of wood. Before either can oblige, the girl is rescued by a burly policeman who picks her up in manly fashion and carries her across the road. Sterling and Charlie follow, the one in pursuit of the umbrella, the other in pursuit of the girl. Chester Conklin arrives to break up the fight that has broken out between them. Recognising his umbrella he tries to reclaim it but is prevented by the chivalrous Chaplin who believes it to belong to the girl. However, he eventually snatches it from her as she refuses his (less than chivalrous) advances.
chaplin_credits
Director:

Henry Lehrman

Scenario:

Henry Lehrman

Cast:

Charles Chaplin (Masher)
Ford Sterling (Rival Masher)
Chester Conklin (Policeman)
Emma Clifton (Girl)
Sadie Lampe (Policeman's Lady Friend)

Shooting days:

January 27 -January 31

Negative sent from LA:

Februaru 7

Received in New York:

February 13

Released:

February 28 1914

Length:

1020 ft

Keystone working title:

A Rainy Day

Other titles:

The Flirts, Charlie and the Umbrella, In Wrong, Thunder and Lightning.