43. Work (1915)
Essanay 1915-16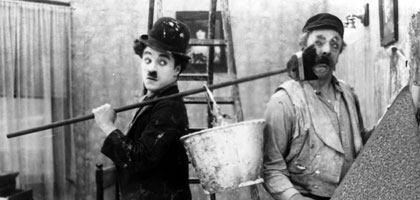 Synopsis
Charlie, a paper hanger's assistant, drags the decorating equipment and his boss (with extreme difficulty) up a steep road. On the way his boss offers a friend a lift, adding to the already unmanageable weight. At the house the decorating becomes increasing chaotic and everyone gets covered in paste. The wife - suspecting the tradesmen of dishonesty - puts away the silver, while Charlie, tit-for-tat secures his watch with a safety pin. The scene is further complicated by the arrival of the wife's secret lover, an exploding stove, and the sudden return of the husband with a gun.
chaplin_credits
Cast:

Charles Chaplin (Decorator's Apprentice)
Charles Insley (His Boss)
Edna Purviance (Housemaid)
Billy Armstrong (Householder)
Marta Golden (His Wife)
Leo White (Gentleman Caller)
Paddy McGuire (Hod Carrier)

Filmed at:

The Bradbury Mansion studio

Released:

21 June 1915

Length:

2017 ft

Other titles:

The Plumber, The Paperhanger, Charlie at Work, Only a Working Man, Charlie the Decorator.