72. A Woman of Paris (1923 )
United Artists 1923-52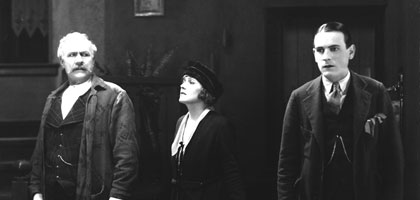 Synopsis
'Somewhere in France' lovers Marie St Clair and Jean Millet prepare to leave their unhappy homes. Jean frees Marie who has been locked in her room by her stepfather and they plan their flight to the Paris next day. They return very late to Marie's house and her stepfather refuses to let her in, as does Jean's father, so they go to the train station to wait for the train to Paris. Jean returns home to collect his bags and under pressure from his wife, Jean's father unbends sufficiently to give the boy some money. When Jean goes to take leave of his father he finds him unconscious in his chair. He goes for the doctor. Marie meanwhile has grown anxious and calls the house, Jean says that 'something has happened' and leaves the phone to let in the doctor. She, feeling abandoned, and with nowhere to go, boards the train for Paris.
A year later Marie is dining in easy companionship with wealthy roué, Pierre Revel. He is a man of refined tastes in food and women. The following morning Pierre reads an article announcing his forthcoming marriage to an heiress. When his valet enquires if the 'other lady' will complicate matters, Pierre calls Marie, arranging to meet that night. In the meantime Marie's friend Paulette calls on her and they see the marriage announcement. Marie makes light of it until she is alone, and then she breaks down. That evening Pierre arrives to take her out but she is too depressed. He says the marriage need make no difference to their relationship but she disagrees. He leaves saying he will return when she is in a better mood. Paulette calls and invites Marie to a party in the artists' quarter. She goes, hoping to be distracted, but gets the wrong the studio where she meets Jean and his mother who are living there. They greet formally, and seeing his poverty, she commissions him to paint her. He comes to her apartment and the story of his father's death is revealed. Pierre arrives and seeing her with another man claims to 'understand perfectly' and withdraws. Jean visits often and finishes the painting in which he has pictured her as she was when they parted. He says he still loves her and wishes to marry her.
Marie is torn between the opulent lifestyle of her life with Pierre, and marriage with Jean. She tells Pierre openly of the dilemma. He returns her frankness by showing her what life would be like with Jean and points from the window to a slatternly woman beset with uncontrollable ragged children. She rebuts that her life is empty. Pierre points out her pearls which represent her wealthy circumstances. She angrily throws them out of the window but moments later rushes out to retrieve them from a passing tramp. Pierre laughs tolerantly but she says they must part. She goes to tell Jean but arrives to find him telling his disconsolate mother that he proposed to Marie in a moment of weakness. Marie makes a dignified exit and says it is for the best. Pierre meanwhile consoles himself with Paulette but there is clearly none of the rapport he shares with Marie. Next day Jean, distraught, follows Marie to a nightclub where she is meeting Pierre. He sends a note asking to be given another chance and is invited to their table. He is humiliated when he sees Pierre handling his note and attacks him. He is escorted out but on the way through the crowded room turns his gun on himself.
Madame Millet, vengeful against Marie discovers her weeping over Jean's body and the two women unite in grief. They set up a home in the country for abandoned children and devote themselves to the service of others. Off to fetch milk from the village, Marie gets a lift on a hay cart. On the same road, Pierre is travelling through the area in his immaculate chauffeur-driven car but the two pass each other unawares.
chaplin_credits
Production:

Regent-United Artists

Producer:

Charles Chaplin

Director:

Charles Chaplin

Scenario:

Charles Chaplin

Photography:

Roland Totheroh

Second Camera:

Jack Wilson

Assistant:

Edward Sutherland

Literary Editor:

Monta Bell

Art Director:

Arthur Stibolt

Research:

Jean de Limur, Henri d'Abbadie d'Arrast

Cast:

Edna Purviance (Marie St Clair)
Adolphe Menjou (Pierre Revel)
Carl Miller (Jean Millet)
Lydia Knott Uean's Mother)
Charles French Jean's Father)
Clarence Geldert (Marie's Father)
Betty Morrissey (Fifi)
Malvina Polo (Paulette)
Henry Bergman (Head Waiter)
Harry Northrup (Man About Town)
Nellie Bly Baker (Masseuse)
Stelia De Lanti (Revel's Fiancée)
Bess Flowers (striptease lady at party)
Frank Coghlan Jr (boy)
Harry d'Abbadie d'Arrast (man in nightclub)
Jean de Limur (man in nightclub)
Charles Farrell (dancer in nightclub)
Karl Gutman (conductor)
James A.Marcus (Tramp)
Granville Redmond (Party Guest)
Philip Sleeman (Gigolo)
Arthur Stibolt (Cook)
A.Edward Sutherland (Cook)
Wilhelm von Brincken (restaurant patron)
Charles Chaplin (Porter)

Production started:

27 November 1922

Production finished:

29 September 1923

Premiere:

1 October 1923 Criterion Theatre, Hollywood

Length:

7557ft