7. His Favourite Pastime (1914)
Keystone 1914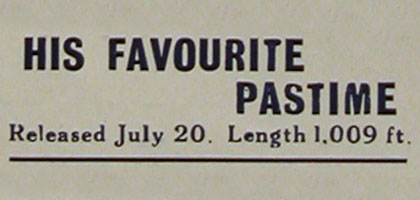 Synopsis
Charlie's 'favourite pastime' here seems to be the drinking of cocktails. In his inebriated state he annoys all manner of people in the bar and eventually outside it too, as he follows a girl home and gets into trouble with a suspicious husband and the servants. The comic business revolves around Chaplin's inebriate pantomiming and inventive use of props, as well as his spectacular falls such as one where he drops over the stair rail to land upright on a sofa with cigarette neatly lit.
chaplin_credits
Director:

George Nichols

Scenario:

Craig Hutchinson

Cast:

Charles Chaplin (Drunk)
Roscoe Arbuckle (Drunk)
Peggy Pearce (Wife)
Edgar Kennedy (Rough drinking buddy)
Harry McCoy (Man at bar)
William Hauber (Shoeshine customer/Onlooker at apartment)
Billy Gilbert (Bootblack)
Jess Dandy
Harry McCoy
Frank Opperman

Shooting days:

February 11 - February 17

Negative sent from LA:

February 19

Received in New York:

February 28

Released:

March 16 1914

Length:

1009 ft

Keystone working title:

The Drunk

Other titles:

The Bonehead, Charlie's Reckless Fling, The Reckless Fling, Charlie is Thirsty, The Bonehead.