29. Dough and Dynamite (1914)
Keystone 1914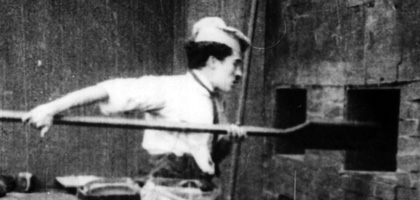 Synopsis
Charlie tries to serve a customer with tarts but they stick to his hands and an absent-minded gesture sends one into the eyes of a customer. He goes below to the kitchens where the bakers have decided to go on strike, and is ordered to do their work. He carries a sack of flour through the tearoom, knocking everything in sight, and finally drops it down the trapdoor. The strikers meanwhile are planning to blow up the bakery and plant a stick of dynamite in a loaf of bread. He returns to the bakery, and deftly shows his method of making doughnuts to the proprietor's wife. He helps her up the ladder leaving floury handprints on her back, which arouses her husband's jealousy. Charlie fights with every weapon he can find and appears likely to emerge victorious when the doctored loaf explodes in the oven.
chaplin_credits
Director/Scenario:

Charles Chaplin (Sennett is generally credited with collaboration on the scenario)

Cast:

Charles Chaplin (Waiter)
Chester Conklin (Waiter)
Fritz Schade (Bakery Proprietor)
Norma Nichols (Proprietress's Wife)
Cecile Arnold (Waitress)
Vivian Edwards (Customer)
Phyllis Allen (Customer)
Glen Cavender (Head Baker)
Jack Dillon (?) (Customer)
Edgar Kennedy (?) (Striking Baker)
George 'Slim' Summerville (Striking Baker)
Charles Parrott [Charley Chase] (Customer at Table)
Wallace MacDonald (?) (Customer)
? Charles Bennett (Customer}

Shooting days:

August 29 - September 11

Negative sent from LA:

September 18

Received in New York:

September 24

Released:

October 26 1914

Length:

2000ft

Keystone working title:

In Trouble

Other titles:

The Doughnut Designer, The Cook, The New Cook.