The Fight for Independence: Essanay
1915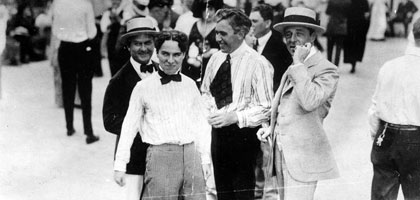 By the end of his Keystone contract, Chaplin (advised by his half-brother Sydney, who arrived from England in November 1914 to work at the studio) recognised his worth at the box office. When Sennett was unable or unwilling to meet his salary demands, Chaplin moved on to the Essanay Film Company who agreed to pay him the then phenomenal salary of $1250 per week, with a $10,000 bonus on signing. The founders of "Essanay" (whose name was fomed by the their initials S and A) were the actor G.M. "Bronco Billy" Anderson, whom Chaplin liked, and the business man George K.Spoor, whose sharp business practices irritated him.
His first Essanay film, His New Job, set in a film studio, was made at the company's Chicago studios, after which he chose to go west to Essanay's Niles Studio. Here he made five films, and began to form a stock company of favourite supporting players. These included, most importantly, Edna Purviance (1895-1958), a beautiful, charming and restrained actress who was to be Chaplin's leading lady for the next 7 years (and for part of that time also his off-screen lover). With his eighth film for Essanay he moved into the more congenial atmosphere of the former Majestic Studios, an old converted mansion.
At Essanay Chaplin was to make rapid advances in his narrative skills. The Tramp was the first film in which he consistently mingled comedy and sentiment. Work is a visually brilliant satire on class and labour relations. A Woman revolves around his last and most dazzling female impersonation. In The Bank he develops the ideas of The New Janitor, combining sentiment and wonderful comic twists on the crime thriller. Chaplin was working towards a new style of realism and irony. His planned feature Life was never to be completed, but some of the material shot for it was incorporated into Police, affording such tantalising glimpses as the scenes in a Dickensian doss-house. A remarkable document relating to Chaplin's music hall days, A Night in the Show was a somewhat expanded screen recreation of the Karno sketch Mumming Birds (known in America as A Night in an English Music Hall), with Chaplin in his original role as a drunken swell in a box who disrupts the performance.
Chaplin's days at Essanay ended in acrimony and law-suits. After he had left the studio, the company shot new material to extend Charlie Chaplin's Burlesque on Carmen from two reels to feature length; and patched together unused footage to make the compilation film Triple Trouble. Chaplin failed in his efforts to get legal redress for these unauthorised productions which he rightly feared could damage his reputation.