The Last Stage
1953-1977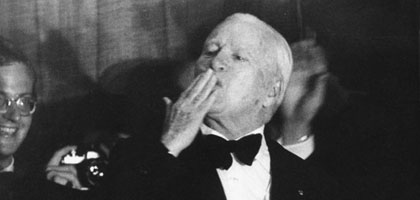 From 1952 Chaplin made his home in Europe, choosing to live at Corsier- sur-Vevey in Switzerland, a country that offered more favourable financial conditions for him to remove his assets from the United States. In Switzerland four more children were born, bringing his family with the former Oona O'Neil to 5 daughters and 3 sons.
Despite his happy marriage and family life, it remained a terrible wrench to leave the country which he had made his home for almost 40 years, and which had made his world fame possible.
He had no intention of giving up work, and soon embarked on a new film, A King in New York (1957). For the first time he found himself working in a studio that was not his own, with collaborators who were new to him. The film shows the effects of this, and of a shortage of money and facilities: but it is still remarkable as the first film that dealt, with ferocious ridicule, with the paranoia of McCarthyism. He was to complete one more film, A Countess from Hong Kong (1967), based on a script he had written in the 1930s. The story was dated, Chaplin found himself at loggerheads with his leading actor, Marlon Brando, and the film was not a success. Faced for the first time with almost universally hostile reviews, Chaplin, nearing 80, for the first time began to feel the effects of age.
This did not stop his activities. He wrote two books of autobiography, composed new music for re-releases of his silent films, and to the end of his life still hoped to direct another film, The Freak, designed to star his daughter Victoria as a girl who unexpectedly sprouts angel wings.
In 1972 Hollywood made amends by awarding him an honorary Oscar, and in 1975 he was given a knighthood by Queen Elizabeth II., By this time his age and frailty were very apparent, and early in the morning of Christmas Day 1977, Charles Chaplin died in his sleep at his home.